How many types of beaches are there? One way is to classify beaches based on their composition (what they're made up of). Beaches can be sandy (white sand, black sand, pink sand, etc) and they can also be pebble, shell, or sea glass. These are the different types of beaches in the world:
Sandy Beaches
The most common types of beaches are sandy beaches. If you ever wondered why do beaches have sand it is because flowing rivers and streams continuously erode the land (rocks and other materials). The type of sand found on a beach is mainly impacted by the size of the materials on the beach and the height (energy) of the waves.
The Eighty Mile Beach which is the longest sandy beach in existence is found in Australia. It is 140 miles long. However, it is broken up along the shore.
The longest natural beach (uninterrupted) is Cox's Bazar (in Bangledesh) which is 75 miles long. You can see videos of both these beaches above and below respectively.
Sandy beaches can be broken down into the following subcategories: White Sand Beaches, Pink Sand Beaches, Red Sand Beaches, Orange Sand Beaches, Green Sand Beach, Black Sand Beaches, Sparkling Blue Sand Beach, and Purple Sand Beaches.
White Sand Beaches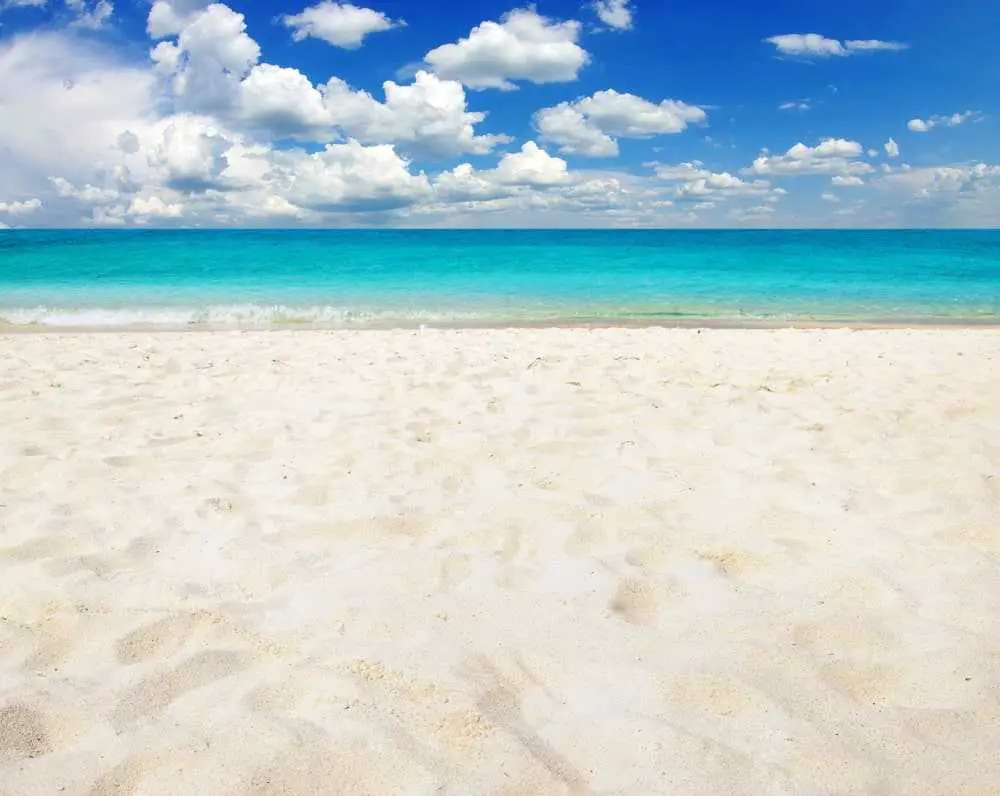 You can find white sand beaches in the Caribbean. Islands like Saint Vincent & the Grenadines, Barbados, Puerto Rico, and more. Before you jet away to the Caribbean be sure to check if you need proof of onward travel. This is a requirement that states that you need a ticket to prove that you're leaving the country after your allowed visit.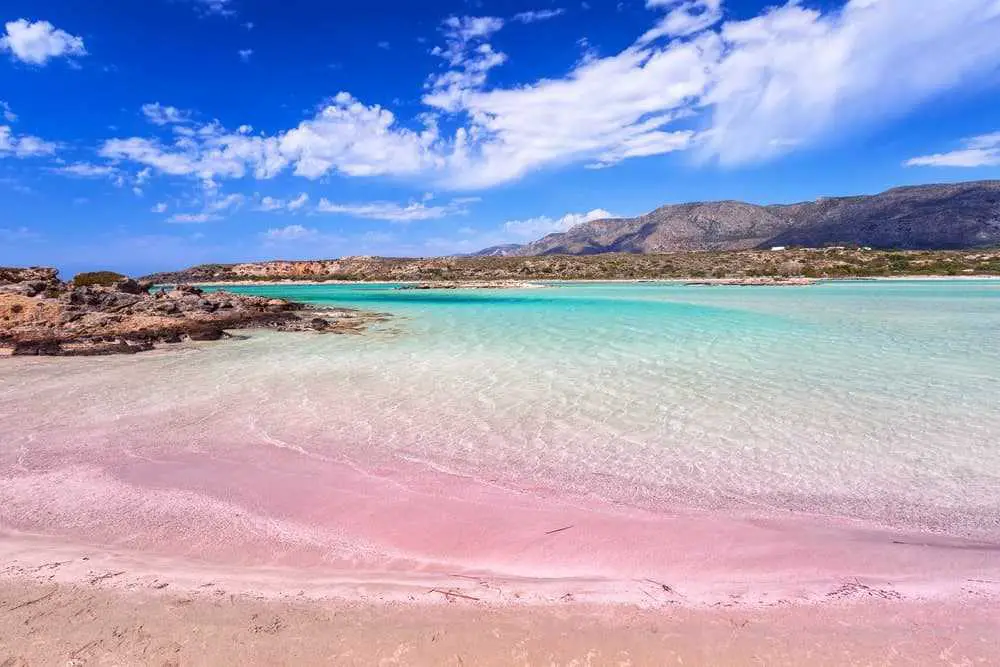 Pink sand beaches are gorgeous to the eye. The pink sand forms when small, broken coral shell pieces, and tidbits of calcium carbonate materials mix. Although these types of beaches are quite rare, you can find pink sand beaches in Bermuda, the Bahamas, Maui, and the Philippines.
Red Sand Beaches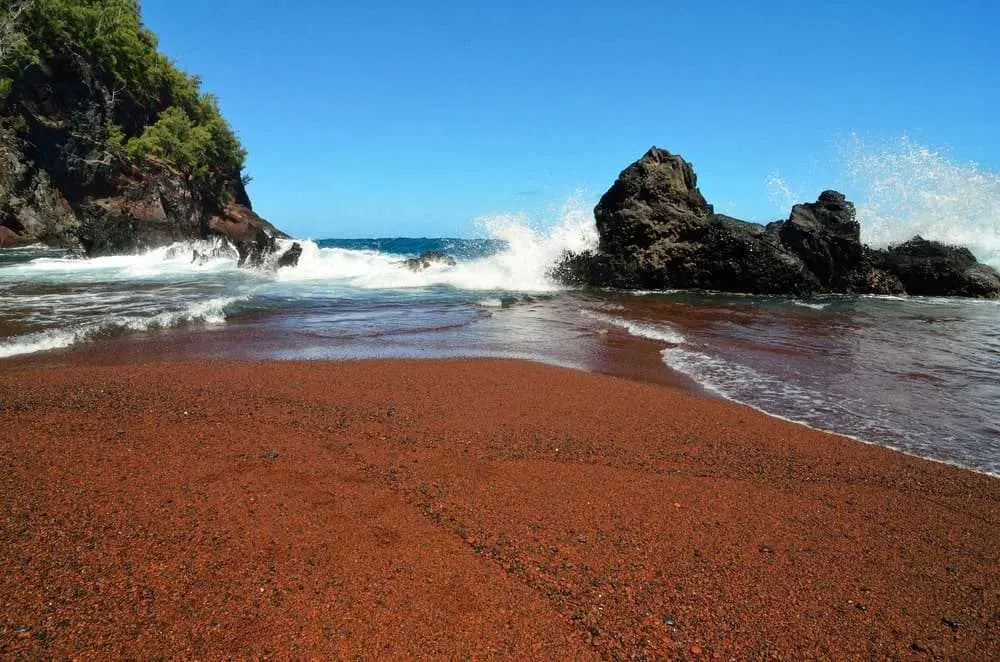 Red sand beaches usually form when there's a high level of iron present in the sand. Iron is the mineral that makes your blood red. When the iron comes into contact with oxygen it forms iron oxide or what we call rust. You can see an example of this type of beach on Prince Edward Island in Canada, including Cavendish Beach.
The most famous red sand beach is in Kaihalulu beach in Maui, Hawaii. However, there are red sand beaches in Canada, Italy, and throughout the Hawaiian islands.
Orange Sand Beaches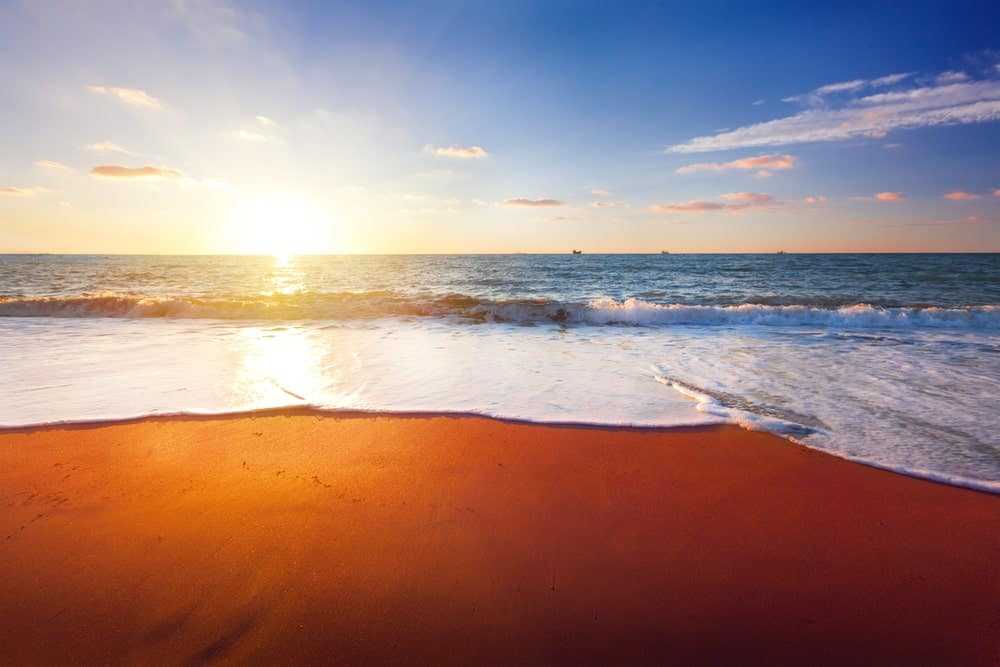 You can find orange sand beaches in Ramla Bay, Island of Gozo, in Malta. These kinds of beaches are formed in the same way as red sand beaches.
Green Sand Beach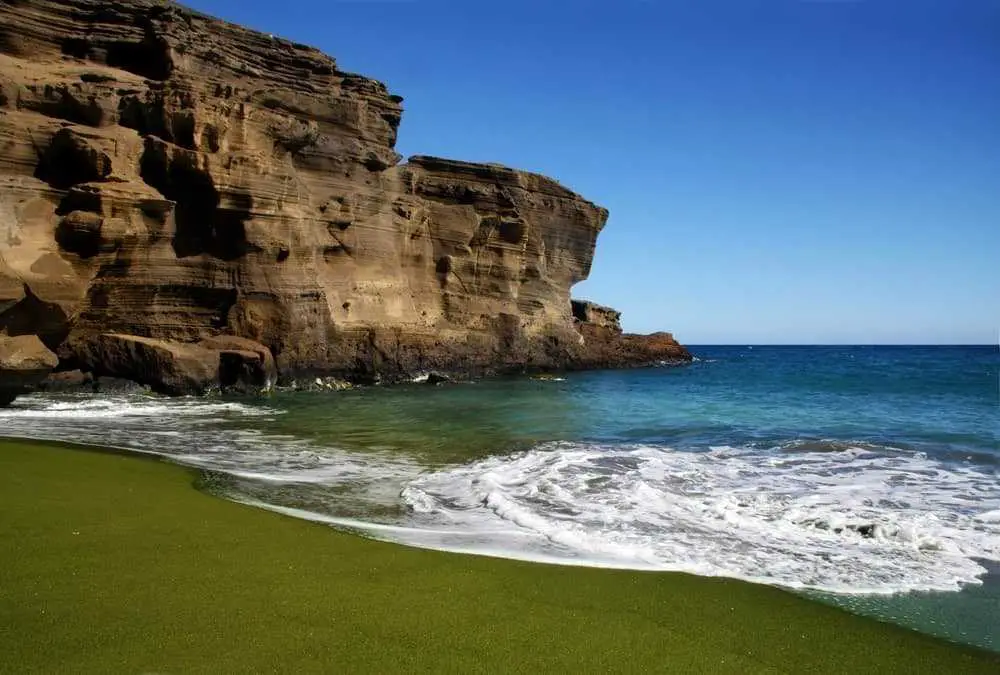 Green sand beach types form when there are elevated levels of the mineral olivine in the sand. There are two green sand beaches in the United States (not on the mainland). Talofofo Beach in Guam and Papakolea Beach in Hawaii. 
Black Sand Beaches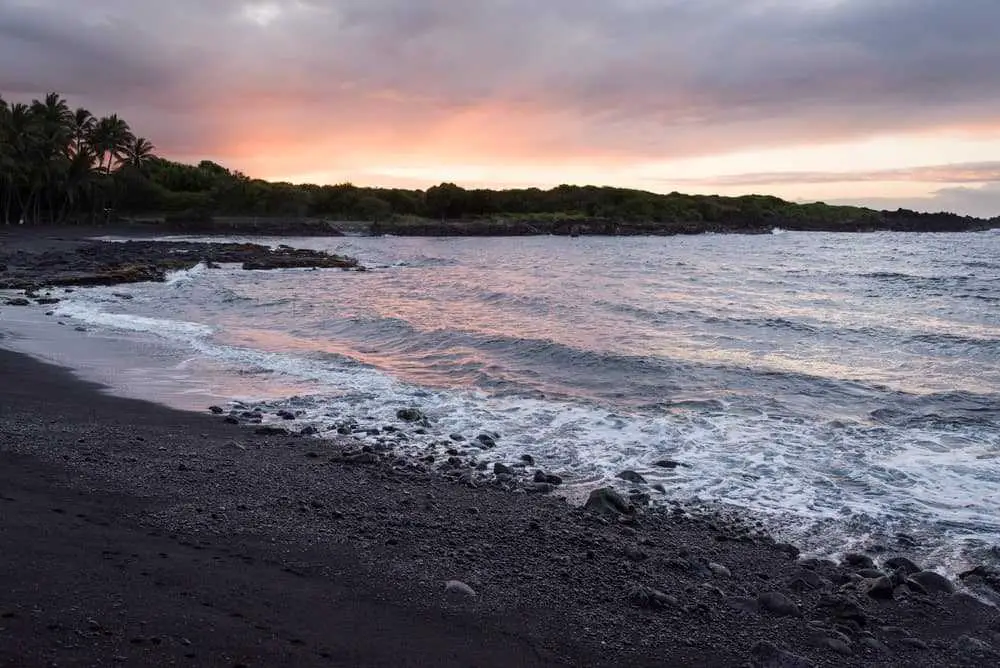 Black sand beaches form due to the erosion of volcanic rock. As the eroded rock moves toward the ocean, it breaks up and forms small sediments by the time it reaches the ocean.
You can find black sand beaches on any island that has or had a volcano. For example, Saint Vincent and the Grenadines, Hawaii, and even in Iceland. Reynisfjara is a world-famous black-sand beach found on the South Coast of Iceland.
Sparkling Blue Sand Beach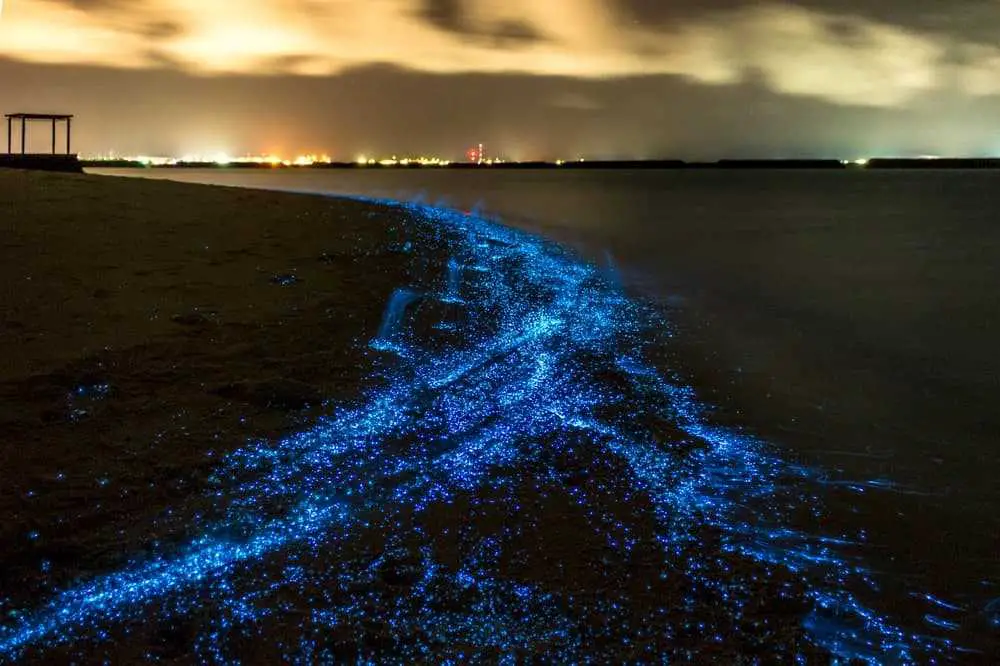 You can find these types of beaches in the Maldives. During the night, living organisms (Plankton) emit light due to bioluminescence.
Purple Sand Beaches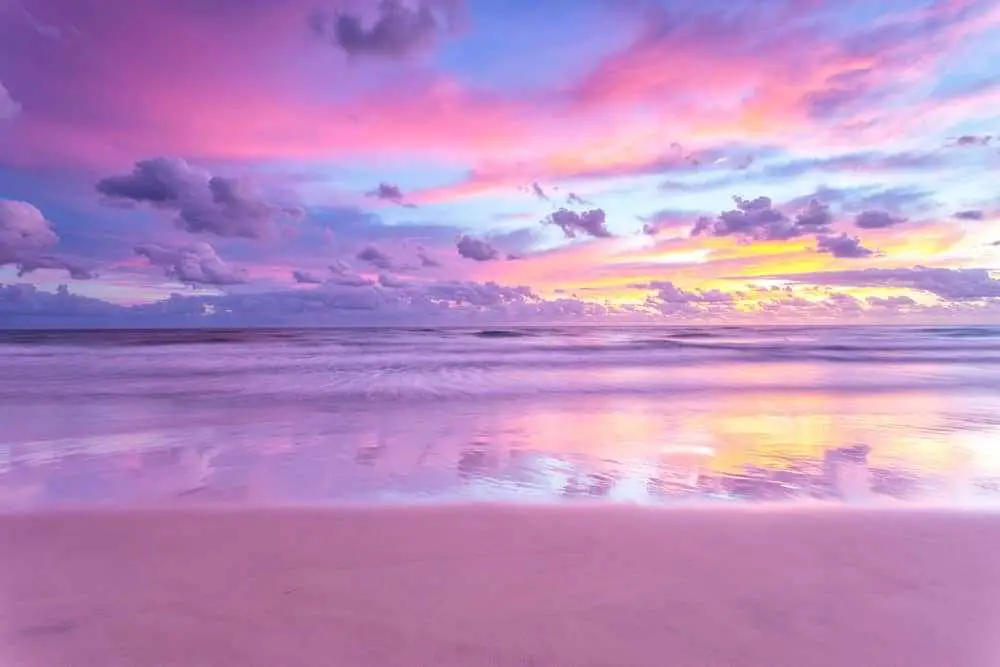 Most purple sand beaches form because the sand is composed of quartz, but garnet is mostly responsible for the purple color, also makes up a significant part of the composition of the sand. You can see examples of purple sand beaches in California, Pfeiffer State Beach.
Seashell Beaches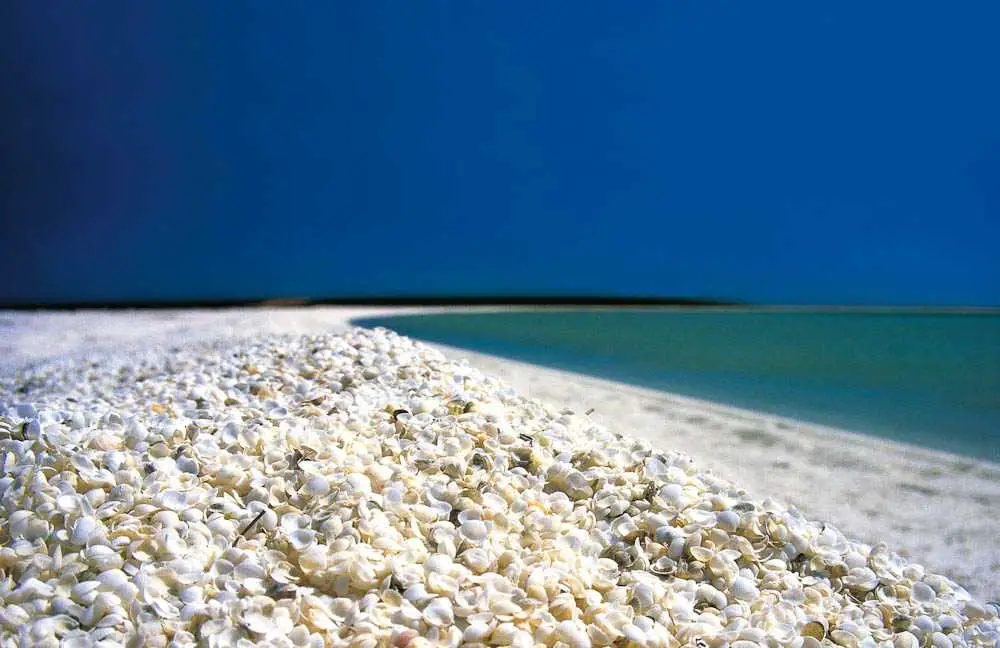 These types of beaches are made up mostly or entirely of seashells. The shells on a seashell beach are from dead animals like crabs, snails, and other mollusks/crustaceans (usually washed up on shore by the waves).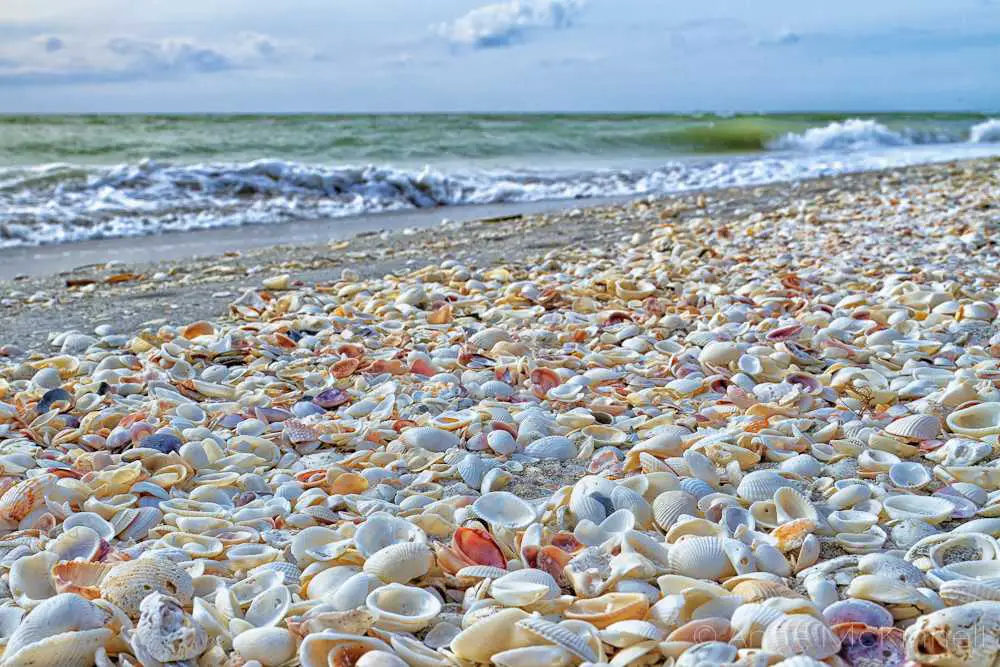 There are two natural shell beaches. Australia's Shell Beach and Sanibel Shell Beach in the United States. Saint Barts Shell Beach (also known as Grande Galet) and Jeffreys Bay, South Africa are also beaches with high deposits of shells.
Sea Glass Beaches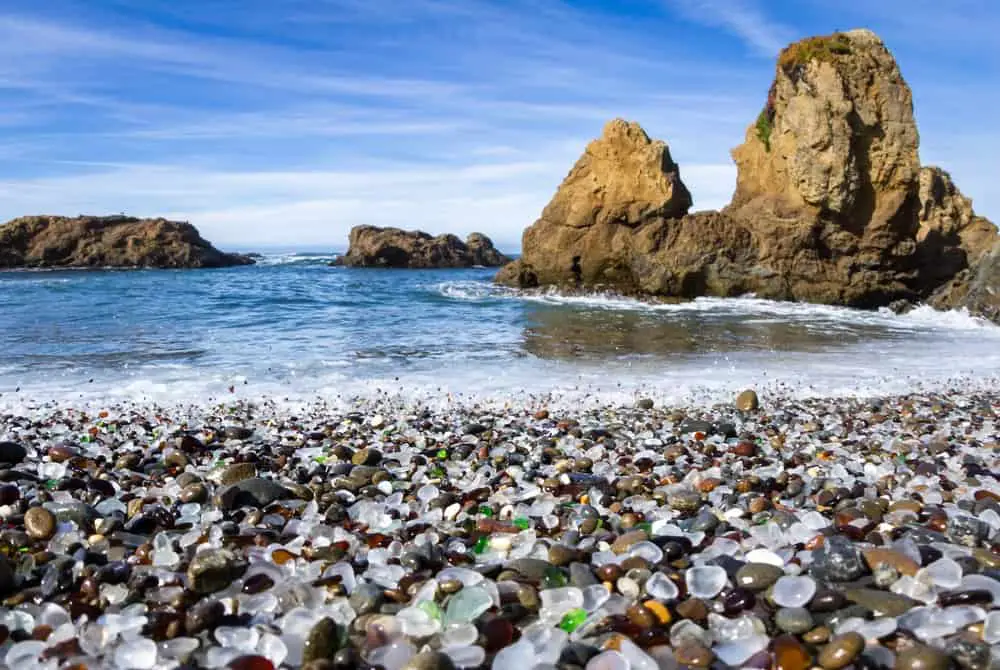 These beaches have glass deposits on their shores. Sea glass forms after broken glass are eroded by the ocean. Over time, it smoothens the sharp edges with the end result is a piece of glass with smoothened and rounded surface. 
You can find sea glass beaches in  Hawaii, Bahamas, Bermuda, and Puerto Rico. Bermuda's Black Bay Beach is a great example of a sea glass beach.
Pebble Beaches
Pebble beaches are beaches that are made up entirely or mostly of pebbles. Pebble beaches form when pebbles transported by ocean currents are placed on the shore by high-energy waves. 
They are also known as shingle beaches and this type of beach is popular among rock collectors as the pebbles can be decorative and unique. You can find pebble beaches in Dungeness in England, Alby in Sweden, and Birdling's Flat in New Zealand.
Boulder Beaches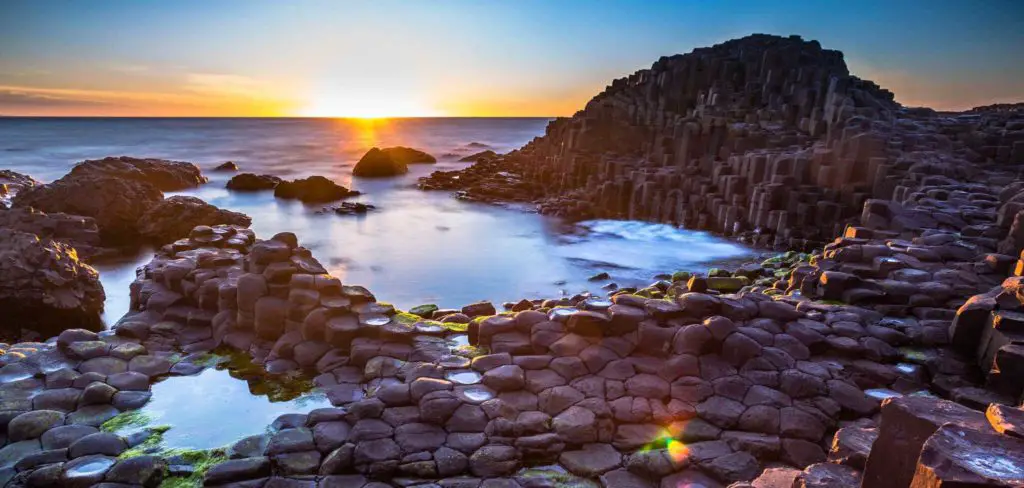 Boulder beaches are composed of boulders that cover the shorelines. The size of the boulders ranges from tiny pebbles to huge house-sized boulders.
An example of a boulder beach is the Valugan Boulder Beach, which is covered with boulders. Situated in Batanes, Philippines. You can also find these kinds of beaches at Ruby Beach in Washington, Koekohe Beach in New Zealand, and Cabo San Juan de la Guia Beach in Colombia.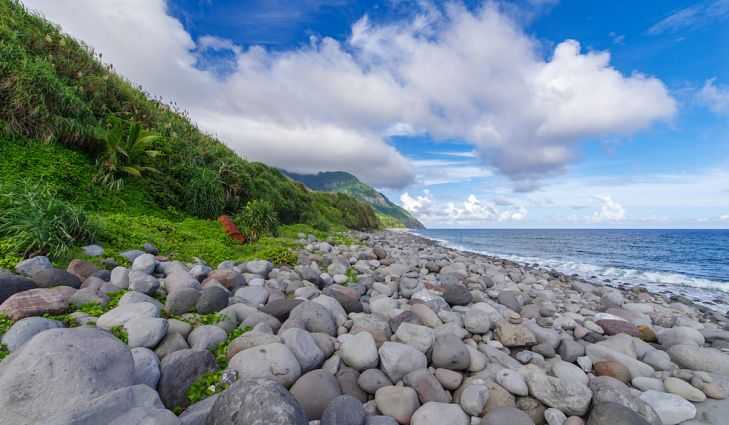 Cave Beaches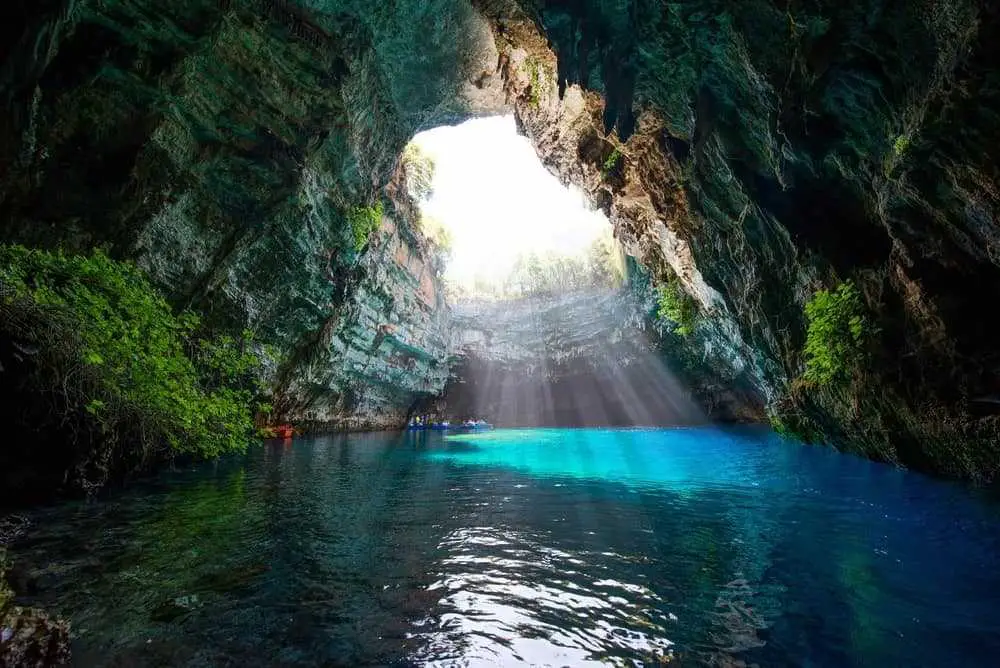 Sea caves occur along most coastal areas due to wave action and erosion of the cliffs. The Painted cave of Santa Cruz Island, Terranea cave in Palos Verdes, Cabrillo National Monument in San Diego, Avila Beach Caves, Thousand Steps Beach Cave in Laguna Beach are all examples of sea caves (all of which are in California).
What are beaches in Geography?
A beach is a narrow, sloping strip of land that runs along the edge of an ocean, lake, or river. Sand, pebbles, rocks, and seashell fragments cover beaches. Beach materials are the products of weathering and erosion. When the tide comes in, for example, it deposits ocean sediment.
What are the three main types of shoreline?
Shorelines are divided into five primary zones—offshore, nearshore, surf, foreshore, and backshore. The offshore zone, for example, is below water. The nearshore zone is the area of the shore affected by the waves where water depth is one-half wavelength or less. Learn more about different types of shorelines in this article.
What are the 10 most beautiful beaches in the world?
10 Most Beautiful Beaches in the World are:
Navagio Beach, Greece.
Anse Source d'Argent, Seychelles.
Lover's Beach, Cabo San Lucas.
Whitehaven Beach, Australia.
Phra Nang Beach, Thailand.
Wai'anapanapa Black Sand Beach, Maui.
Pfeiffer Beach, California.
Cocoa Island Beaches, Maldives.
Ses Illetes, Formentera.
Ipanema Beach, Rio de Janeiro.
Types of Beaches in California
Top 10 Beaches in California:
La Jolla Shores Beach.
Santa Monica State Beach – South Beach.
Coronado Beach.
Carmel City Beach.
Moonstone Beach.
Salt Creek Beach.
Sand Dollar Beach.
McClures Beach.
Pebble Beach of Crescent City.
San Gregorio State Beach.
See photos of all these types of beaches in California in this article.
Types of Beaches in Florida
12 Top-Rated Beaches in Florida:
Miami Beach.
Beaches around Naples.
Fort DeSoto.
Clearwater Beach.
Cocoa Beach.
Fort Lauderdale Beach.
Venice Beach.
Fort Myers Beach.
Dr. Julian G. Bruce St. George Island State Park.
Panama City Beach.
Daytona Beach.
Bahia Honda.
See photos of all these different beaches in Florida in this article.
Beach Types Based on Nature
For a more scientific perspective on how different types of beach form (outside of the aesthetic appeal) see below. See images after for a visual representation of the beach formation process. You can also read here for more information on the below bullet points.
Wave-dominated Beaches
Wave-dominated beaches are those that are exposed to persistent ocean swell, waves and low tides (less than 2m).  
Reflective
Intermediate – Longshore bar and trough
Intermediate – Rhythmic bar and beach
Intermediate – Transverse bar and rip
Intermediate – Low tide terrace
Dissipative 
Tide-modified Beaches
Tide-modified beaches happen in areas of high tide range and normally lower waves. Tides normally range between 3 and 15 times the wave height and the wave height is less than 30 cm. 
Reflective + low tide terrace
Reflective + bars and rips
Ultradissipative
Tide-dominated Beaches
Tide-dominated beaches develop in areas of high tide range and regularly lower waves. They happen when the tide range is between 10 and 15 times the wave height and the wave height is very low.
Reflective + sand flats
Reflective + sand ridges
Reflective + tidal mud flats
Reflective + rock flats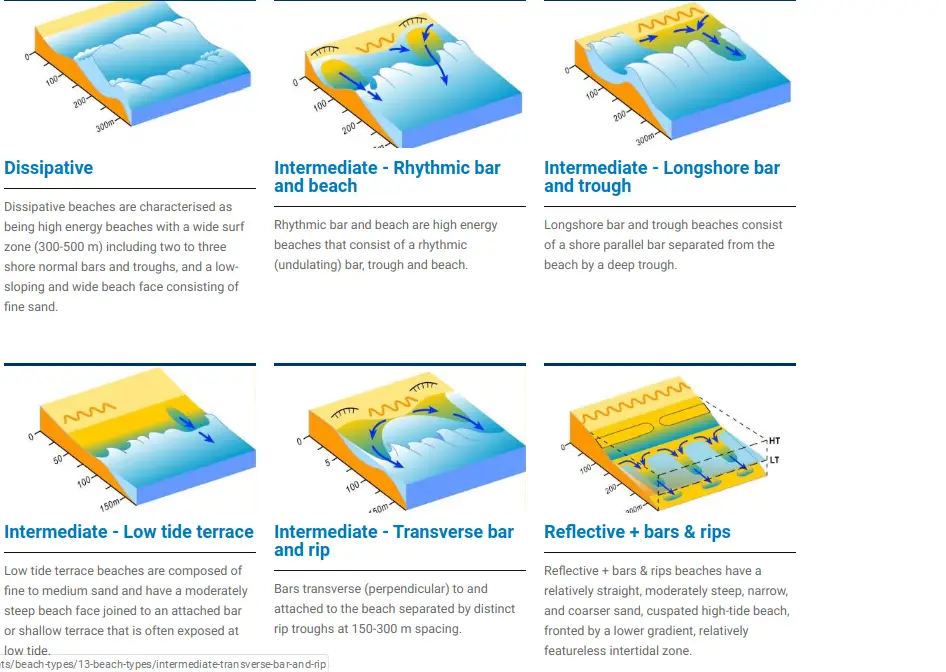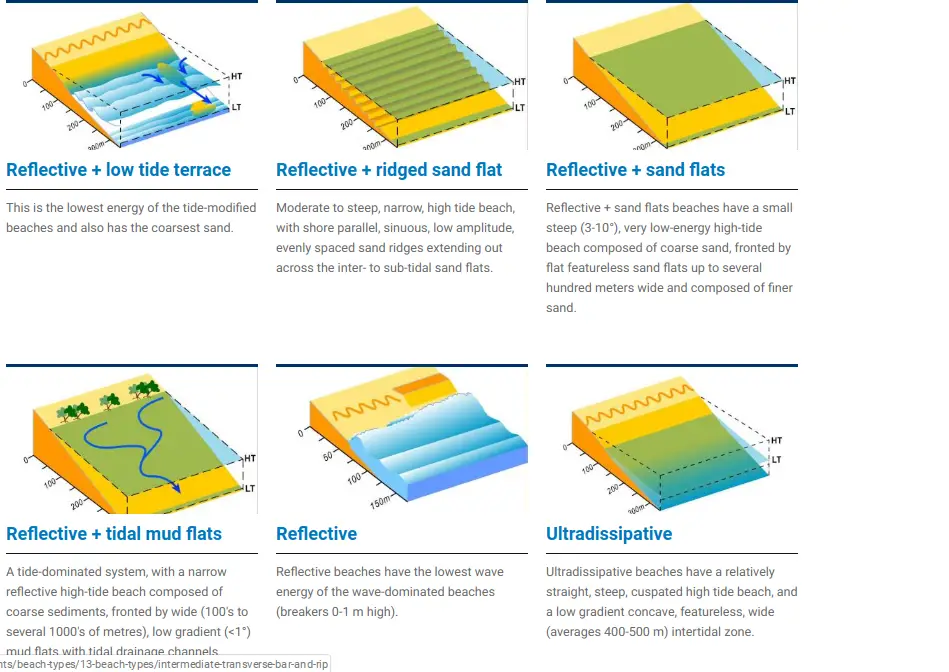 References: